Agriculture has been the mainstay of Indian economy since ages. The science and art of agriculture has many references in the Vedic literature and the ancient history of the mankind. The agriculture sector in India provides livelihood to about 52% of the population of the country and contributes about 15% to the Gross Domestic Product. Trained human resource has been the key factor behind the Green Revolution, White Revolution, Yellow Revolution, that has led India to become self reliant in food and becoming a fast developing economy. Knowledge based, input-use efficient, eco-friendly, and high tech precision agriculture has been the next stage for which efforts have been directed by Indian Council of Agricultural Research (ICAR) and Agricultural Universities (AUs) in planning, designing and executing the national agricultural educational programmes. Considering the importance of Agricultural Education, University Education Commission under the Chairmanship of Dr. S. Radhakrishnan, recommended the establishment of independent Rural Universities in the country in the year 1948. As a result of this recommendation, first State Agricultural University (SAU) was established in 1960 at Pantnagar (Nainital) on the pattern of the Land Grant Colleges of the United States. The University Grants Commission accorded the status of Deemed-to-be-University (DU) to Indian Agricultural Research Institute, New Delhi in 1958 which became the first ICAR Institute as Deemed University conducting postgraduate teaching and research. Today, the country has a large ICAR-AU system with a total of 65 Agricultural Universities (AUs) comprising of 55 State Agricultural, Veterinary, Horticulture, and Fisheries Universities, 1 Central Agricultural University, Imphal, 4 ICAR-DUs (IARI, IVRI, NDRI and CIFE), 4 Central Universities having agricultural faculty (BHU, AMU, Viswa Bharati and Nagaland University) and 1 Sam Higginbottom Institute of Agriculture, Technology & Sciences (SHIATS), Allahabad (formerly Allahabad Agricultural Institute) awarding various kinds of degrees in different disciplines of agricultural, veterinary and allied sciences. Agricultural education is also imparted in some traditional universities of the country. Agricultural education system is producing invaluable human resource and every year about 15,000 graduates, 11,000 Masters and 2,500 Ph.D.s are admitted. The Under Graduate degree in 11 subjects of agriculture and allied sciences and Master's degree in about 93 subjects, awarded by the Universities associated with the ICAR are well recognized and accepted for higher education globally. Some of the graduates also start their own business units including the Agri. Clinics and Agro Service Centres. Following are some of the sectors providing placement to the agricultural graduates:-
Development Departments of Central and State Governments
Commercial Banks and Insurance Sector
Area development/ watershed development agencies including NGOs
Industry dealing with fertilizers and plant nutrients
Plant protection chemicals, insecticides and pesticides manufacturing and marketing companies
Organizations dealing in seeds and planting materials
Industries dealing with Ag. Machinery, Sericulture, Horticulture, Fisheries, Dairy, etc.
Manufacturers and suppliers of irrigation systems
Agricultural products processing industry
Multi-nationals dealing with production, field evaluation, and marketing of agricultural inputs including export marketing and consultancy services.
The growth achieved in agricultural sector has been attributed to the concerted efforts of skilled human resource developed through AES. After independence, from the state of deficiency, country has reached to the stage of selfsufficiency in food grain production. It has enabled the country to increase production of food grains by 4-fold, horticultural crops by 6-fold, fish by 9-fold (marine 5-fold and inland 17-fold), milk by 6-fold, and eggs by 27-fold since 1950-51; thus making a visible impact on the national food and nutritional security. The interest of girl candidates towards agricultural education is rising and during 2012 about 38% female candidates were admitted through AIEEA-UG. Presently, efforts are being directed by the ICAR and Agricultural Universities to impart necessary skills and confidence among agricultural graduates to start and operate their own business units through first-hand experience of running Model Farms and Pilot-Plants during the course of study. Experiential learning, Rural Awareness Work Experience are some special features of agricultural education in the country. ICAR provides annual grants to AUs for infrastructural development, scholarships/fellowship schemes and monitoring system through Accreditation norms for quality assurance. Besides, the teaching quality is also stressed through continuous national and international training programmes for the faculty. In summary, Agricultural Education could be termed as one of the most relevant education in the country for growth and sustainable development. The ICAR and associated Agricultural Universities would like to congratulate you for choosing the area of agricultural sciences for your education and career and wish all the success in your life.
Location of Universities for admission in U G Degree Programmes in Agriculture and Allied Science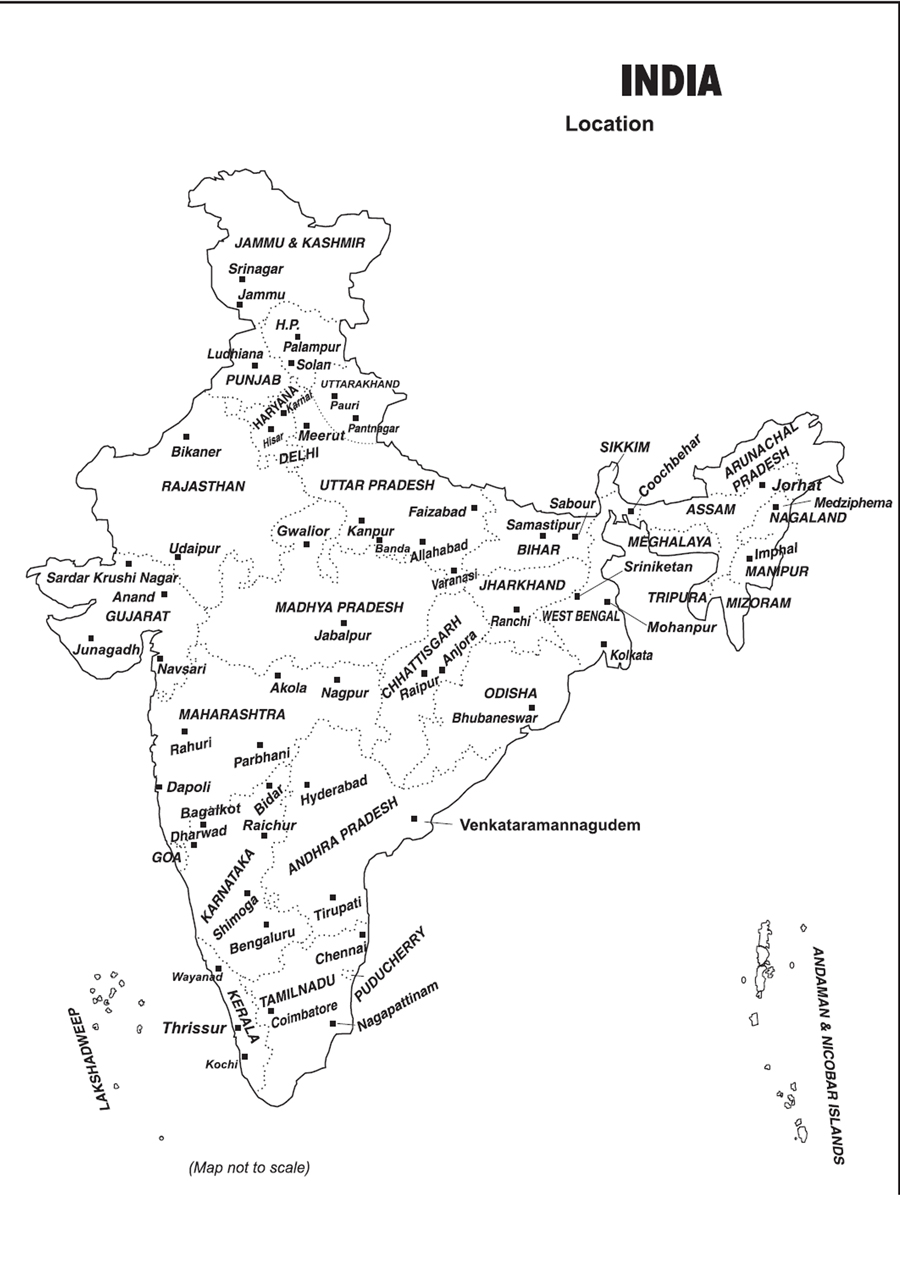 Source : www.icar.org.in